Sedonawolf has been selling Authentic, Zuni Fetish Carvings and Zuni Fetish Necklaces on the internet since 1996… buy and sell rare, best quality, Zuni fetishes from master carvers past and present.
Search Sedonawolf by using the Index above… search by Carver, Animal, Necklace or Just In  Directories.
Need Help? 800 462 8536
<><><>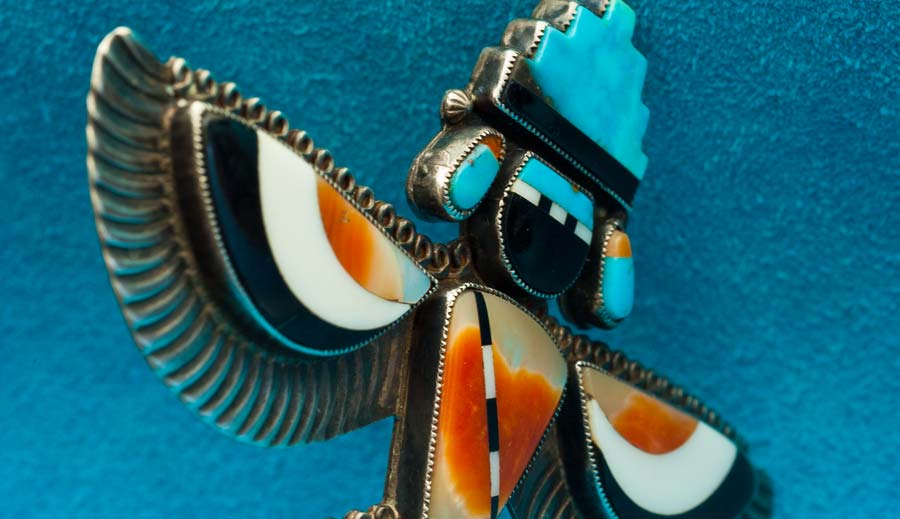 Some people see Zuni Fetish carvings as Art… Others see More 
Looking for that special Zuni Fetish… Need Help finding it – Call us
800 462 8536
Handmade animal carvings (those made by the Zuni Pueblo people of New Mexico) are called Zuni Fetish Carvings. These Zuni fetishes have been with us since before recorded history.  Zuni Fetishes are used by shaman to heal the sick and dying. They are carried by travelers to help assure safe passage. In general, Zuni fetishes are meant to bring their owners good fortune and prosperity.
Many people believe that living creatures have a spirit. The Zuni believe that these spirits transition from one form to another. That they reside in our natural world while waiting for new life.  It is the form they take in rock while waiting that interests us here.  The best Zuni Fetish carvers can see these spirits and carve the rock in such a way as to release the spirit from the host stone.
Sometimes the spirit is so clearly visible in the rock that anyone can see it and that is called a concretion. 
The Zuni people believe the spirit of the animal and its power (its strength, cunning, vision and other properties as well) can become theirs by exchanging breath with the stone carving. Exhaling into its mouth and drawing in breath from the mouth of the carving. It is through this process that the owner can have the strength of a bear, the vision of an eagle, the power of a mountain lion… 
It is through these beliefs and the Zuni desire to pay respect to nature that beauty is born. Come join us on our journey. We wish to share, understand and respect this aspect of the Zuni culture. To enjoy the many beautiful forms in which a Zuni Fetish can take. 
Sedonawolf was among the first online to feature high quality Zuni Fetishes.  We were fascinated by these beautiful carvings and the culture that made them.  As a result, in 1996 we created Sedonawolf.com to share this with the world.  
Since the very beginning we have avoided routine tourist (cookie cutter) Zuni Fetish carvings and focused our attention on highest quality Zuni Fetishes handcrafted by top Zuni carvers such as: Francis Leekya, Troy Sice, Colvin Piena, Max Laate, Pernell Laate and many other noted carvers . Call us if you have older, high quality Zuni Fetish collections you wish to sell.
Also be sure to check out our new video on Francis Leekya Zuni Fetish carvings on youtube.
Sedonawolf  focuses on Zuni Fetish carvings as an art form as well as the intended sacred objects they are meant to be.  We are a top ranked website with lots of photos,  important text, and a credible reference source you will probably often visit.  Click to see our see our Zuni Fetish information page.
Our new  website will make it easier for you to navigate find the perfect Zuni Fetish for your collection. We are here to help you call us at;
800 462 8536
Also Like us on Facebook to hear about special deals/promotions SW Facebook
enjoy our slideshow, click on the image to link to that artist