Leekya Deyuse and Alice Leekya Zuni Fetish Carvings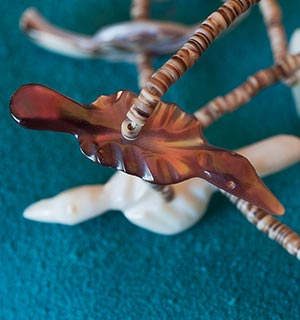 Rare 3 Strand Leekya Deyuse Shell Necklace – Available Now
Leekya Deyuse is considered the father of modern Southwest Native American Art and Craft.  He and dealer CG Wallace helped changed the look of Zuni fetish carvings and jewelry. Artists moved from the heavy Spanish influence of the Conquistadors (1500's) to portraying their own world. The world they (the Zuni, Navajo and Hopi artists) lived in.
Alice Leekya (deceased) was Leekya's  daughter. Her carvings are very similar to those of her father and can be easily mistaken for his. Alice Leekya was born in 1923 and died in 1988. I believe the pieces you see below were made Circa 1950 before electricity arrived in Zuni. All carving at that time was done with hand tools. After electricity arrived in Zuni, about 1960 fetishes were made and polished on electric grinding wheels.
The level of detail you see on these Leekya and Alice Leekya carvings is not possible with the electric grinding wheels used in Zuni.
This wolf fetish is documented in McManis , Zuni Fetish Carvers of the 1970's (on page 52)
Scroll down the page to see Alice Leekya Carvings
Three Leekya Deyuse Zuni Fetish Bears
These rare Leekya carvings are all sold but I have left them here for Collectors to reference.
Scroll down the page for more images of these Leekya Deyuse fetish carvings as well as images and details of rare, Alice Leekya fetishes that are still available.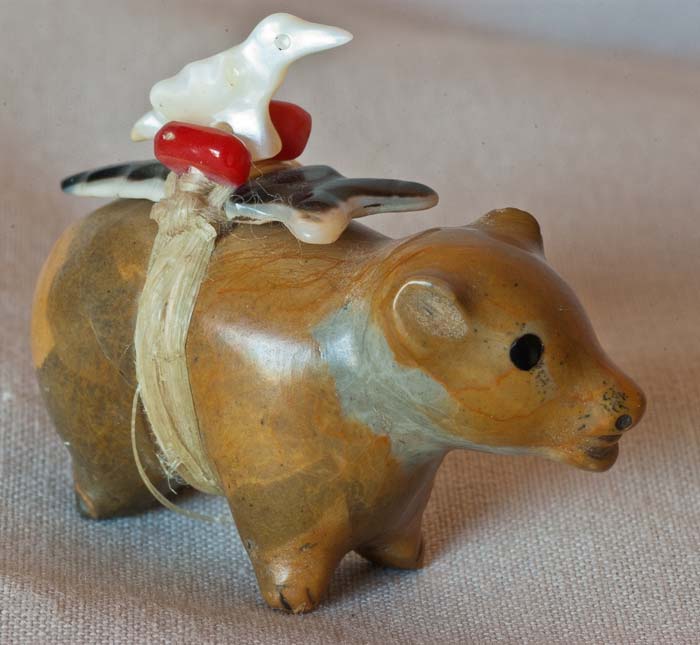 Leekya Deyuse Zuni Rock Bear with a Mother of Pearl Bird as part of its Offering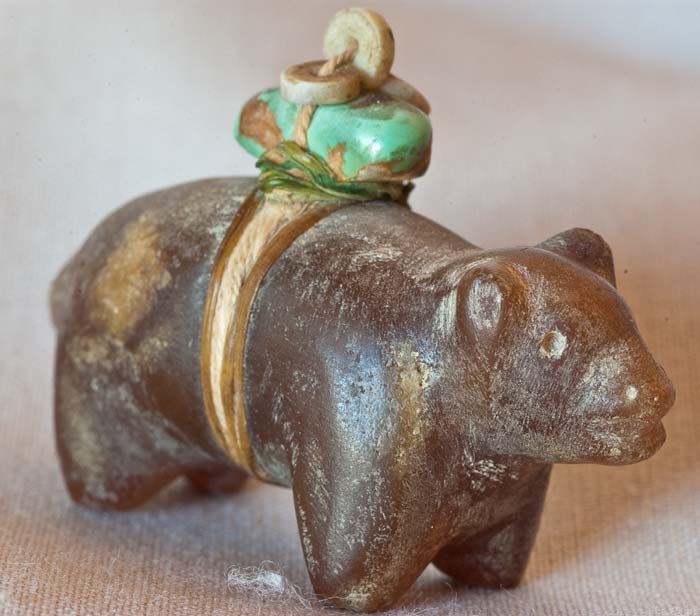 Very Early Leekya Deyuse Bear (Circa 1920)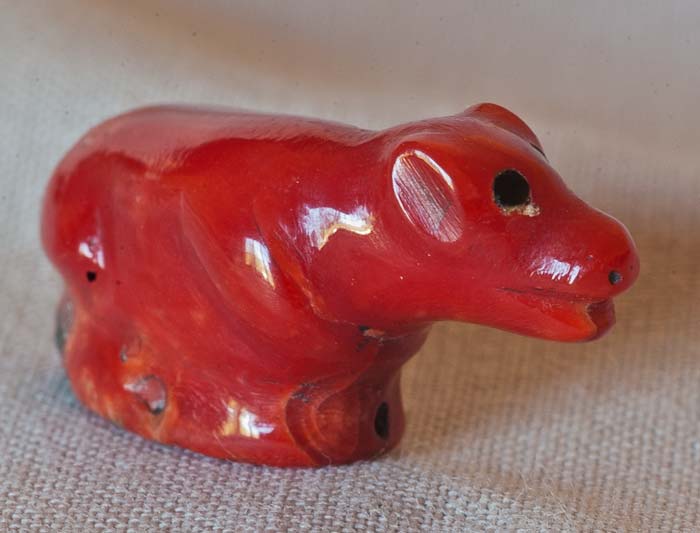 Coral Leekya Deyuse Bear made to be mounted in jewelry.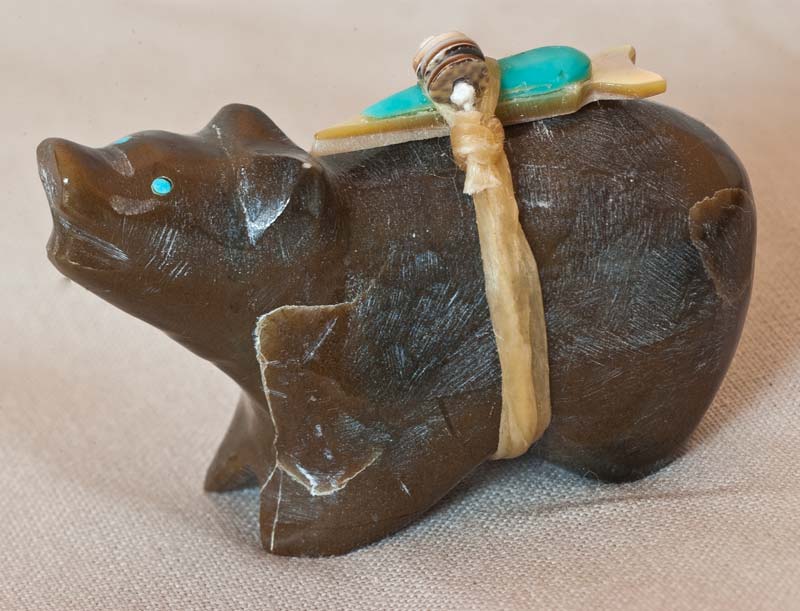 Alice Leekya Homer Zuni Fetish Bear (Circa 1960)
Alice Leekya carved happy, perfect fetishes much like her father Leekya Deyuse did. There are subtle differences, the arrowheads and offerings are different as is the face. Alice's fetishes' faces are a bit squared of… much like the carvings of her brother Francis (whose fetishes have a more masculine feeling).
Also, the arrowhead on Alice Leekya's fetishes are mounted pointing forward. Leekya Deyuse mounted arrowheads pointing to the back.
Perhaps, the greatest similarity of Alice's carving to that of her father is the way they are perfectly finished. Tidy little, perfect works of early Zuni lapidary. They are sculpture… they are art. And, they are very collectible and all but impossible to find.
Nutria Rock Bear
2 1/8″
$1,150 (Gone)
<><><>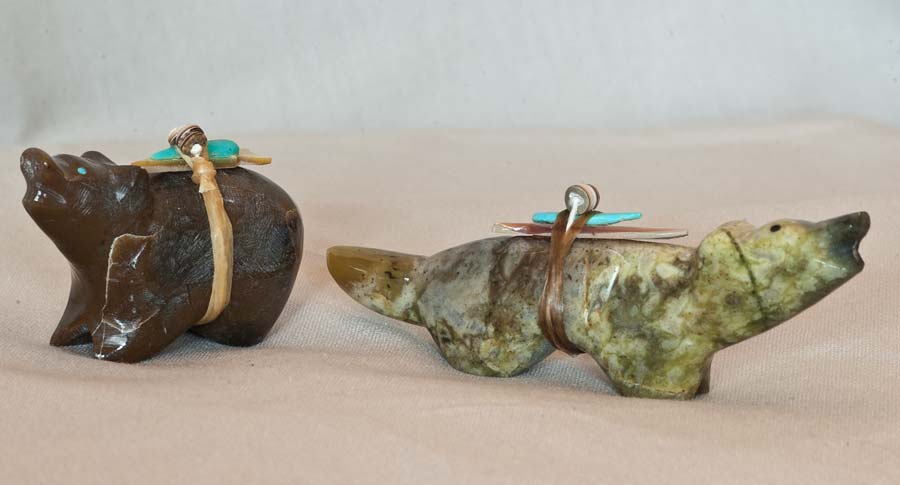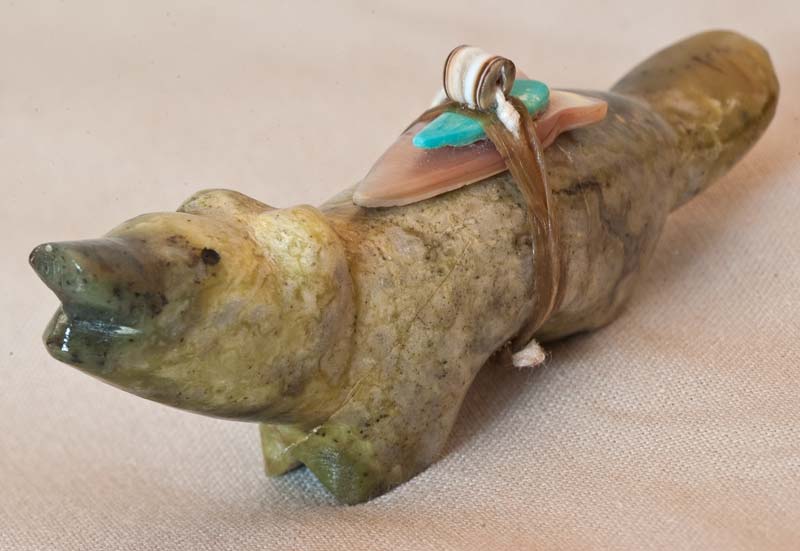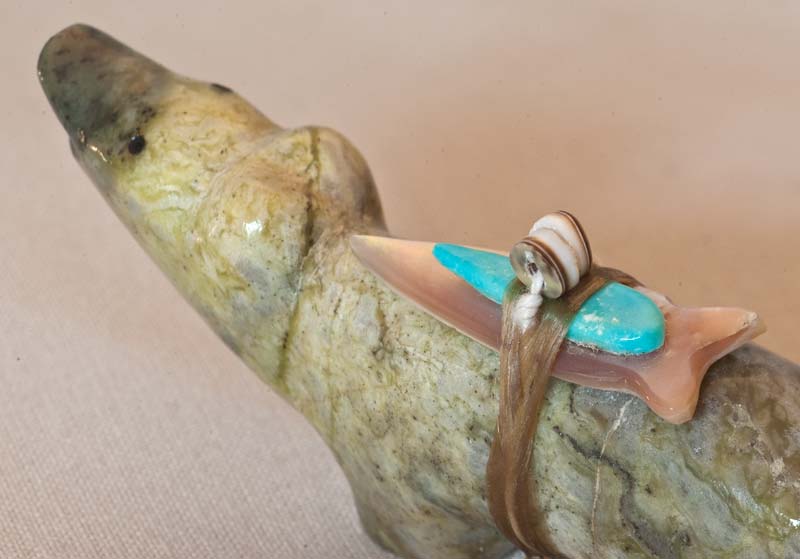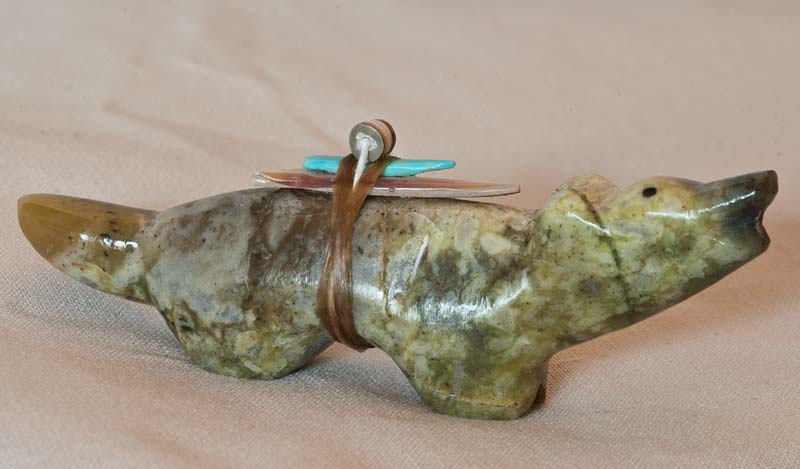 Alice Leekya Homer Zuni Fetish Wolf
It is made of Serpentine
Wolf measures about 3 3/4″ long
The arrowhead is made of a very iridescent Mother of Pearl
It carries a natural Robbins Egg Blue Turquoise Gem
Quite rare and very unlikely to ever appear again
Sold
<><><>
Leekya Deyuse 1  Leekya Deyuse 2  Leekya Deyuse 3  Leekya Deyuse 4