Leekya Deyuse Zuni Fetish Carvings
These Fetishes are Sold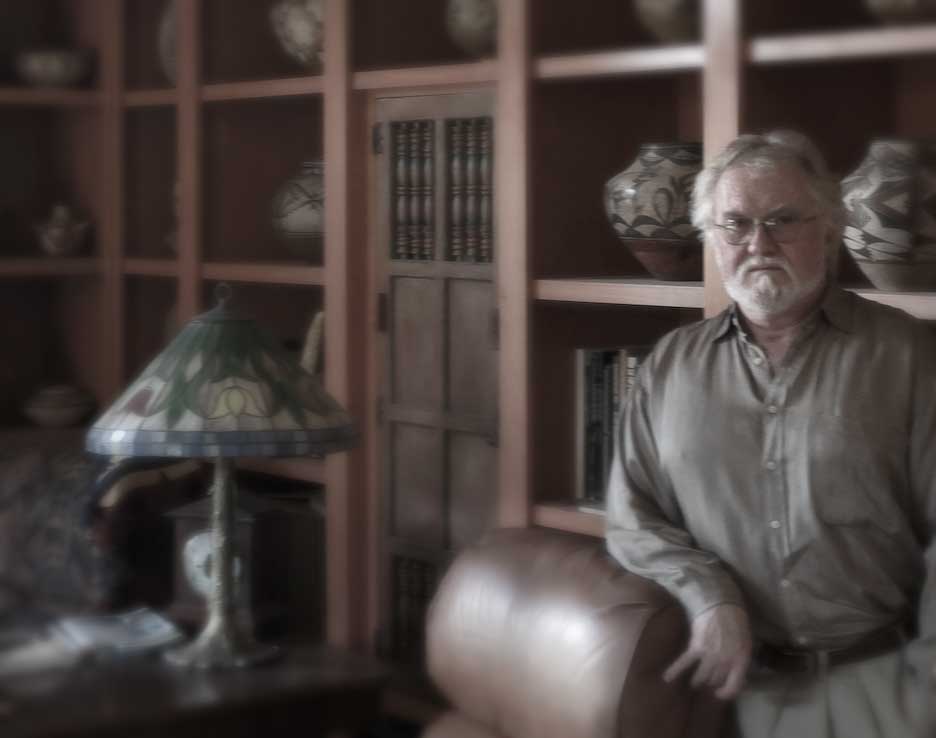 Dr. Ed Wade… with just a small part of his Southwest pottery collection.
As a child Ed lived for a time with the Hopi and still maintains contact with
his Hopi friends. He earned a Harvard PhD when he was 27. For a time he was the deputy director
of Harvard's Peabody Museum. Over the course of the last 30 years Ed worked with major museums,
foundations and individual collectors helping them build their collections.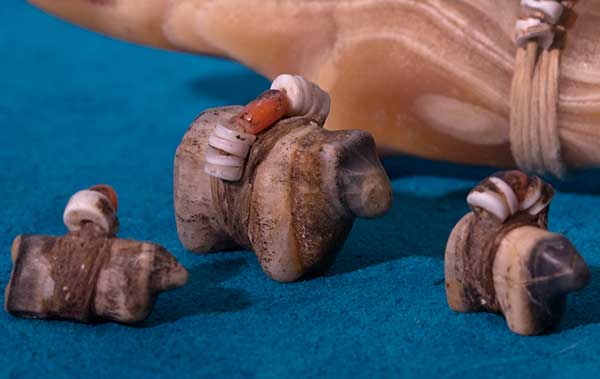 The 3 Bears from Dr Wade Collection. Dr Wade writes,
"The Three Little Bears by Leekya Deyuse c. 1939… It is always a collectors joy to find a previously
unknown but documented artwork by a master artist. In the case of these three delightful fetishes
the hand of the celebrated Zuni sculptor Leekya Deyuse can be detected. In addition there is a rich
personal history associated with the commissioning in 1939 of these pieces by one of Santa Fe,
New Mexico's most venerated collectors, Letta Wofford.
In a whimsical mood she challenged the Zuni artist to interpret the old European folk tail
of the "Three Bears." Here in all their stateliness is his response, with father; mother and baby bear
elevated to the august heights of Zuni prey-beasts and guardians. I acquired this wonderful set
from Letta in 1973. In addition, she also acquired from Leekya the small turquoise and silver hunt
fetish when she picked up her bear set. This is an actual historic hunting fetish,
which from its wear was worn for decades."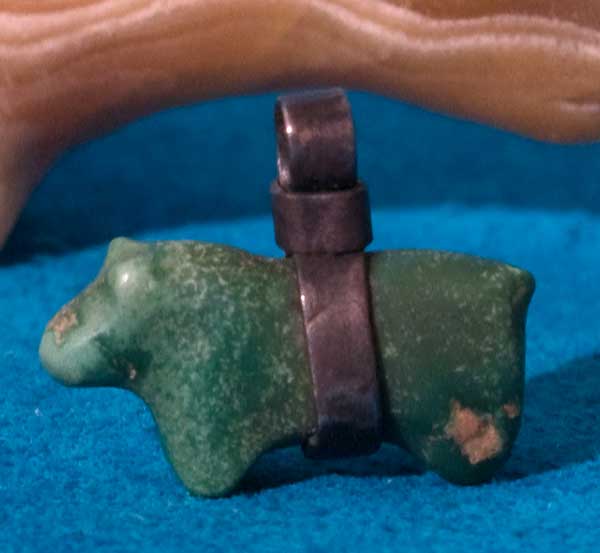 <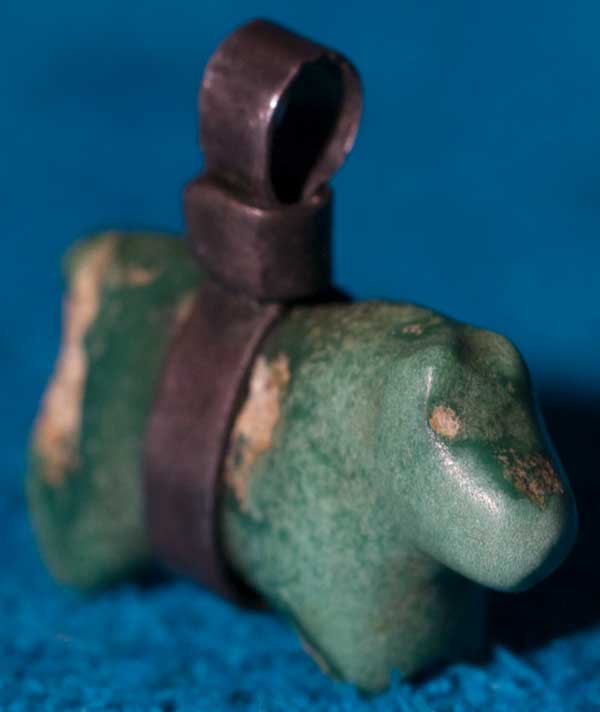 Leekya Deyuse Turquoise Bear by Leekya Deyuse c. 1939
Hachita Turquoise with Silver
3/4″
<><><>
The Three Little Bears by Leekya Deyuse c. 1939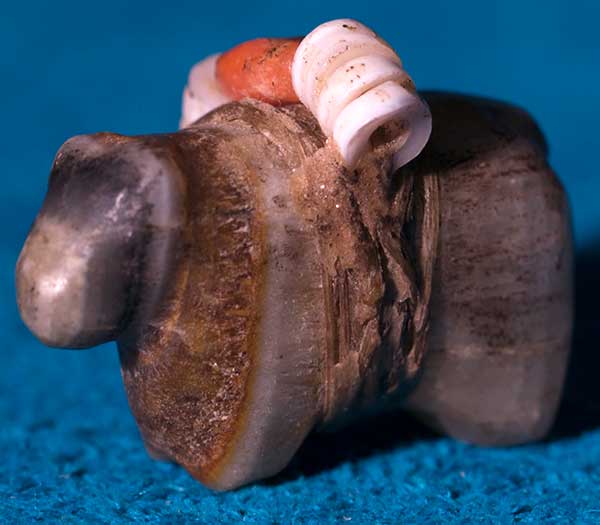 Poppa Bear
1″ long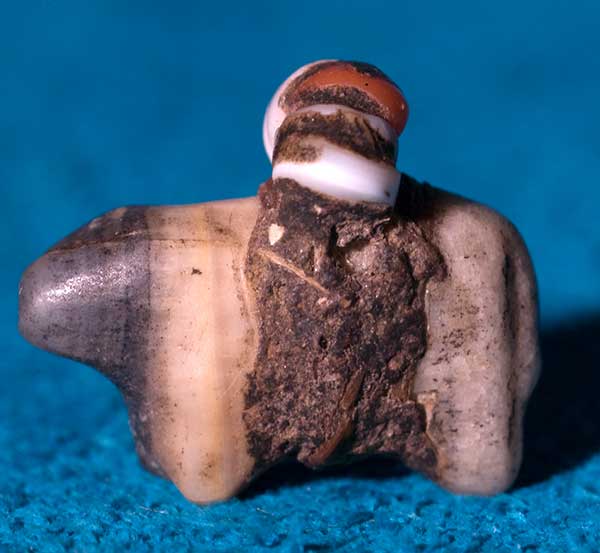 Mama Bear
5/8″ long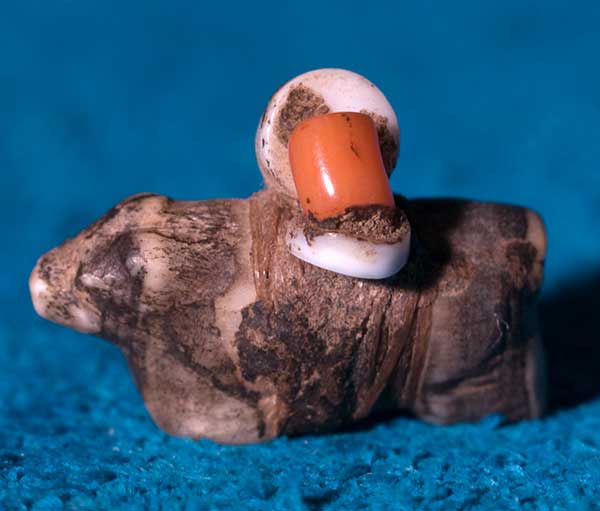 Baby Bear
5/8″ long
The Three Little Bears by Leekya Deyuse are sold as a set
They are made from Travertine. The offering is Olive Shell and Coral and wrapped with deer sinew.
<><><>
Leekya Deyuse Mountain Lion Zuni Fetish Carving ** Not part of the Dr. Wade Collection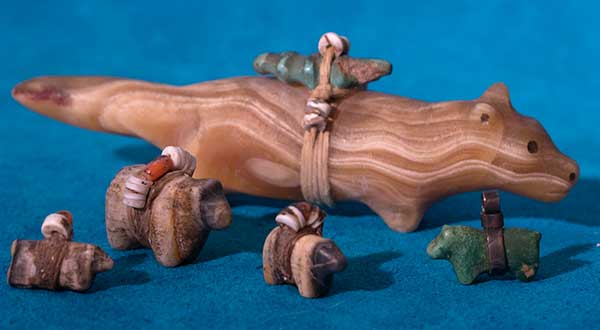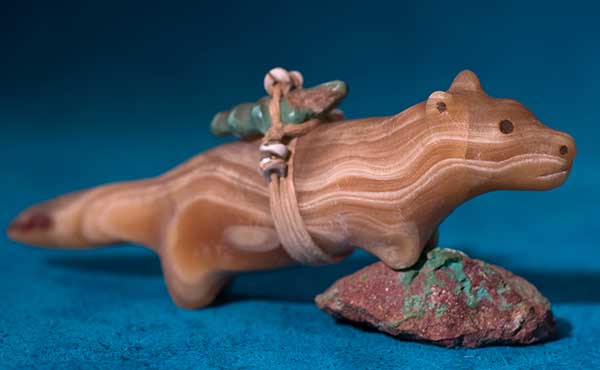 img src="http://www.sedonawolf.com/Fetish/Images/april2008/LDcoyoteA.jpg" alt="" width="600″ height="528″ border="0″ />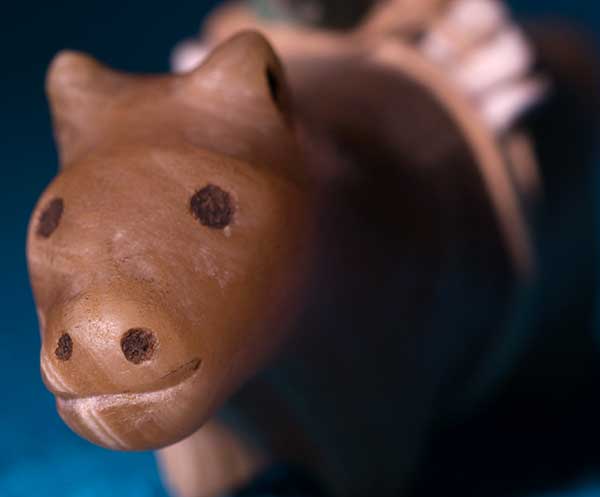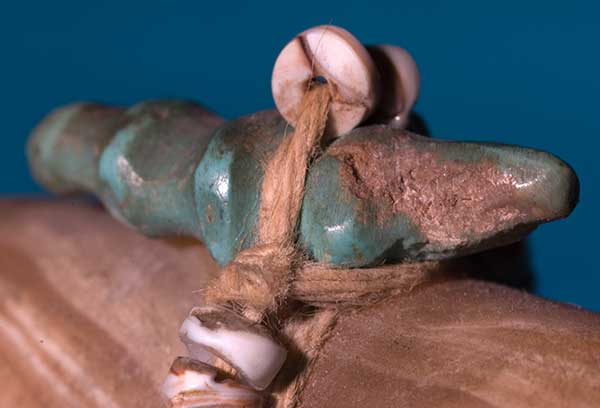 Leekya Deyuse Mountain Lion Zuni Fetish Carving
Circa 1930's
<><><>
Leekya Deyuse 1  Leekya Deyuse 2  Leekya Deyuse 3  Leekya Deyuse 4