Irv Burkee
 (1918 -2007) 
Painter, Sculptor, Metalsmith, Teacher,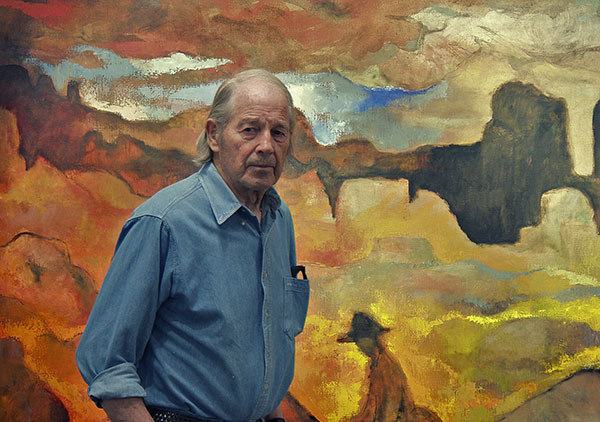 About Irv Burkee
After high school, Irv pursued formal studies at the Art Institute of Chicago. 
He received yearly scholarships. After 2 years of post-graduate work,
Irv was awarded a foreign travel fellowship.
He taught at the University of Colorado and at Stephens College. Irv introduced
 into their curriculum two new departments, jewelry and printmaking.
He left teaching after six years to pursue his own art. He established a home and studio
 in Aspen, Colorado. His experimented with different media expanded into marble sculpture,
metal work, and printmaking with various and  unique techniques.
He received a Smithsonian award for his jewelry.
A grant from the Colorado Mountain College to study sculpture in Italy.
Irv was a member of the National Sculpture Society in New York City.
His work has been published in 3 books and he is listed in Who's Who in the World.
His art is in private collections throughout the United States.
Irv's work can be described as a synthesis between impressionism and expressionism,
at times, pointillism. The colors, the southwestern themes, his delicate touch –
all serve to create a wonderful experience that is unique to Irv Burkee.
Irv maintained a resident citizenship in both Pietrasanta, Italy and Sedona.
Selected Honors
Smithsonian Award for Silversmithing, 1957
Who's Who in the World,
Selected Member of National Sculpture Society of New York, 1991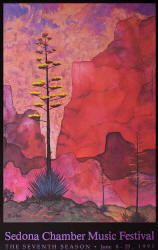 Irv's Sedona Chamber Music Red Rock Posters
Copyright 2009 by Sedonawolf
All rights reserved. No part of this web site may be copied or reproduced
 without prior written consent of Sedonawolf. Irv Burkee art is copyrighted by
 the Irvin Burkee Estate. No reproduction of any kind is
 permitted without consent