Veronica Poblano and Dylan Poblano
Zuni Fetish Carvings & Necklaces
Veronica Poblano is an award winning Zuni silversmith and Zuni fetish carver.
She was featured in the American Museum of Natural History (Park Ave, NYC) show
called "Totems to Turquoise". Her jewelry toured the country with the exhibit and is in
the book of the same name. Veronica's father was Zuni legend, Leo Poblano.
Veronica was recently honored by the Fashion Industry in NYC for her wonderful jewelry.
Daniel Chattin is Veronica's son in law (married to Jovanna Poblano).
Daniel's carvings are widely collected. He has studied with the Quandelacy family,
Emery Eriacho and Veronica Poblano.
I recently showed Veronica and Daniel this rare Leekya Deyuse turquoise
fetish from the Dr. Wade Collection. It had been in a silver band since new
(1930″s) and was intended to be be on a Necklace. We all were quite
taken with the carving. Here is the necklace and fetishes it inspired.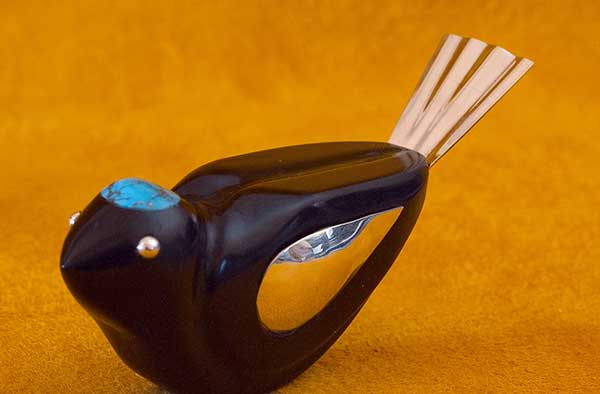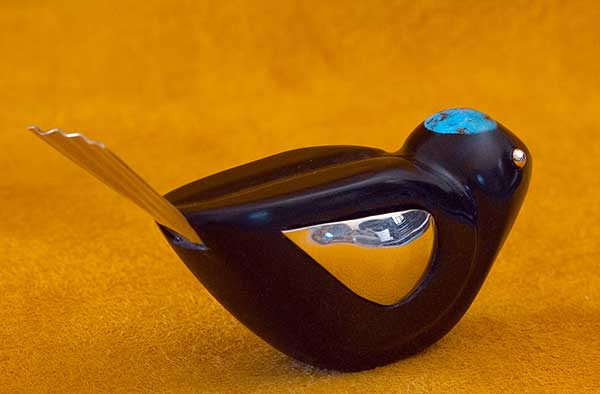 Dylan Poblano Silver Morenci Turquoise and Jet Zuni Fetish Back Bird
Fine Gem Quality Turquoise and Jet Raven with
Handmade Silver Feathers and Eyes
3 1/2″ long
$1100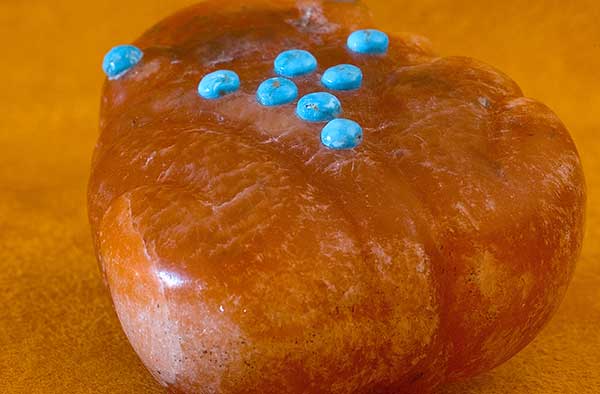 Veronica Poblano Orange Alabaster and Natural Gem Persian Turquoise
Inlay Zuni Fetish Frog
about 10 carats of Gem Persian Turquoise
Carved as Leo Poblano would have and carries
a Veronica Hallmark
3 1/2″ x 2 3/4″ x 1 1/8″
$1750